Before visiting
No, the Arctic Hideaway is a place to dive into your processes. We have artists working here all year round but we also invite anyone who wants to understand their nature while immersed in our nature. We wanted to create the worlds most beautiful working space, but it seems that we also created a very nice environment to rest and reset.
If you want arranged activities, tours or restaurant experiences then this is not the right place for you. Instead see a stay with us as a gift to yourself – the luxury is the simplicity of a day with yourself, relaxation when options are removed and there is only one type of coffee to chose from…
We have build 6 sleeping houses, where you can book up to 8 persons comfortably, but 10 is also great if you come as a group. Our sleeping houses, or pods have beds and beds only, and they are organized like this:
Three of the houses have standard double beds
Three of the houses have single beds
The tower house NJALLA has a daybed
The hunter´s cave on the sauna pier has one single bed (summer only)
You book enough sleeping houses to accommodate your party. This is your private space. The rest of the hideaway is shared with other guests and our resident host. If you'd like to have the whole place to yourself contact us for pricing.
The shared spaces consist of a studio house, kitchen house, njalla (tower house) and sauna.
Here we talk about THE ART OF DOING NOTHING and SIMPLICITY AT ITS FINEST. If you wish to chase the aurora or hope for a schedule of activity packed with promise of 'a taste of Norway' then this may not be the place for you because on this tiny island we have nothing….in the best way possible. No distractions from the brief minutes between the turning tide or the otter sliding down the bank with his prize, or that nagging thought that perhaps our goals are not actually ours but the ones we were told were ours…. If that sounds like you then we welcome you into space, time for yourself and pleasure in simplicity.
Pack wool. Even in the summer. Pack for wind and pack for rain. And pack a pair of shorts for the sauna. Then you have packed perfectly.
The beds will be ready for you when you arrive, we have towels for you, we have wood for the sauna.
A breakfast buffet is available between 09:00 and 10:00. Simple, fresh, good food to start your day. Bread baked daily by your host and a mix of continental, cooked and Scandinavian options.
During the day you eat as your body tells you. The kitchen is stocked with local cheese, meats, fruit and more so you can come in and help yourself to lunch when it suits you.
Here the evening meal is not just about food; it's about conversation so we encourage a shared meal, prepared by one of your fellow guests, or you? The focus is fresh, local meat or seafood sourced from our rich, blue storehouse of an ocean. You'll be amazed how simple your cravings are when you enjoy fewer choices.
Alcohol is at your discretion – bring what you want to drink. Maybe one more from your locality to share with new acquaintances?
Yes, you can bring your dog. We have only one sleeping box dedicated this purpose, and need to ask for a cleaning fee. See also that your beloved animal could stay alone while you eat, as we have to say no to dogs in the kitchen house. Bring your leash . During the summer months we have ground nesting birds so your dog will have to stay on the leash at all times.
Public ferries run from the port in Bodø just 20 min walk from the airport. There are an average of 2 daily departures to and from the island which vary depending on the day of the week/season. We will assist you with choosing right boats, or even chartering a private boat should you wish.
Please be aware that we can experience heavy weather all year round but especially in January, February & March when the ferries might not run. We recommend travel insurance should you experience this and find yourself unable to leave the island the catch your flight. This is also part of the reason we don't take less than four night bookings – if you arrive one day later than planned you still have time to enjoy your stay.
During the visit
We have built twelve houses; six houses are for sleeping (duvets & pillows), one is a bath house ( toilets & shower ) one is meant for cooking & eating ( kitchen table, gas & induction), one is a chill-out zone/open studio house ( cozy chairs, stereo & NU1 piano ), one is a sauna and changing room (wood stove), another is meant for outdoor cooking ( gas & fire place), and finally, the last one is the iconic Tower House, a hang out zone with a day bed.
Your sleeping cabin will have either a single or double bed, complete with bedding/towels, space to store your belongings, a small entrance area for shoes etc. and in some of the cabins there is a working space/desk.
Wifi exists in the kitchen and studio houses. We are working on connecting all the sleeping cabins soon.
Here on the island there are no shops, and no cars. Here there is no stress, and no dangerous animals.
Please bring any alcohol you want to consume while on the island as we don't provide any and there are no shops on Fleinvær. If you're bringing some, why not bring one extra from your home region to share with your fellow islanders?
Northern lights begin as early as late August and run through to March, early April. At this point light takes over and from late May to August we experience midnight sun. Come at the time to experience light, sun and the sheer variety of weather patterns we experience on an Arctic island as the sun rules all.
During the winter period of November to March we can experience frequent storms. This is wind that will make you feel alive, we promise!
No matter the season you chose to visit Fleinvær, it's wise to bring wool jumpers, raincoat and sturdy footwear. If they stay in your suitcase for the duration then nothing has been lost. But you'll be glad to have them if a storm passes through.
About us
Get in touch to discuss prices for a stay that meets your needs. We don't take bookings of less than four days and our price structure rewards stays of a week or more so please bear that in mind.
Prices include food and wood for the sauna.
Price is per person but we charge a reduced rate for children so please give ages of any children included in the party when enquiring. Artists wishing to book a residency should also state this in their enquiry.
Email booking@thearctichideaway.com for a quote and to find out more.
Our host will meet you at the dock upon your arrival to Fleinvær.
This wonderful person makes sure that everything is running as smoothly as possible from the moment you arrive until the moment you leave. They are here to give guidance on the facilities, and to guide you as to how to live in and around our village for the duration of your time on the island.
The host also acts as a liaison between you and the local people and environment. Please find time to chat with them and enrich your stay through the information and discussions you will have. However, they are not chefs or kitchen staff, be prepared to contribute to cooking the communal evening meal and cleaning up after yourself. The host will prepare breakfast for all guests each morning but for the rest of the day you feed yourself.
We bought the first estate in the arctic archipelago of in 2004, then we dug with spoons and forks the first years before we met Yashar & Andreas from TYIN architects in 2013 ,who immediately introduced us to their need for prof. and mentor Sami Rintala from RintalaEggertson architecture. This was totally perfect for us. Suddenly we had the two most published architect offices in Norway on our team. After ideas were thrown forth and back for some time, we began in August 2014 with a workshop for architecture students. After eight workshops with students from all over the world, and two years of building processes led by multi-skilled architects and designers Andrew Devine & Ruben Stranger, and actually no carpenters, we now have ten small houses in our little village. Let's see if it stops there…
No! We welcome all and everyone who is looking for space to breathe. We love to see a mix of artists, creatives, engineers, business owners, teachers, nurses, tightrope walkers, horse whisperers and more around our table each with their unique perspective. Come for a holiday if you need a holiday that could change your life.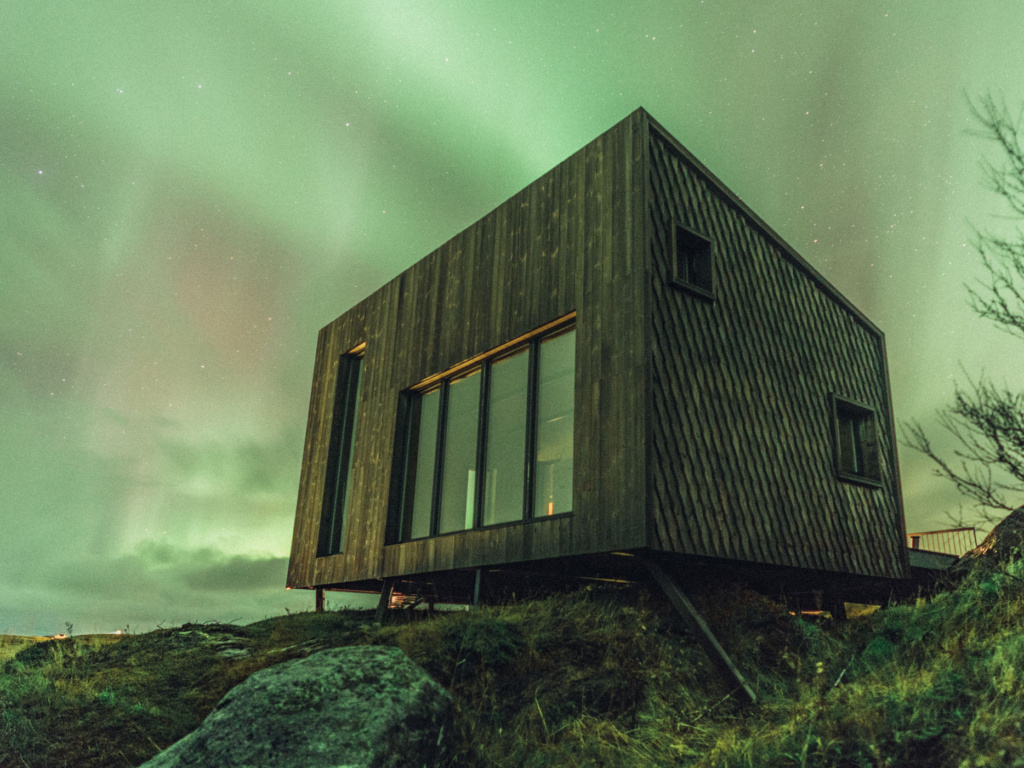 Booking request